FOR THE WORKERS.
Forge and Woking offer something very different for businesses and their staff.
Forge exterior (CGI)

Forge Reception (CGI)
A new look for Woking. Forge offers a striking building exterior – welcoming both occupiers and visitors.
FORGE FOR YOU.
1

Believe
your eyes.

A beautifully
transformed,
design-led
building.

2

Move
with ease.

Waterloo in just
23 minutes. woking
station is just five
minutes away.

3

Keep the right
people.

A workspace
where people want
to come to work
and stay.

4

The company
you keep.

Woking is home
to innovative
businesses –
join them.
FOR THE FREE THINKERS.
The Grid

The Grid
FOR THE FREE THINKERS.
The Grid provides playful breakout / co-working spaces for occupiers within the atrium of the building.
FOR THE FREE WHEELERS.
Cycling is not second best – a cycle ramp that actually lets you ride into the building and down into the bike store and shower area.
FOR THE FREE WHEELERS.
THE CYCLE RAMP

CYCLE AMENITIES
FOR THE LATTES, ESPRESSOS AND FLAT WHITES.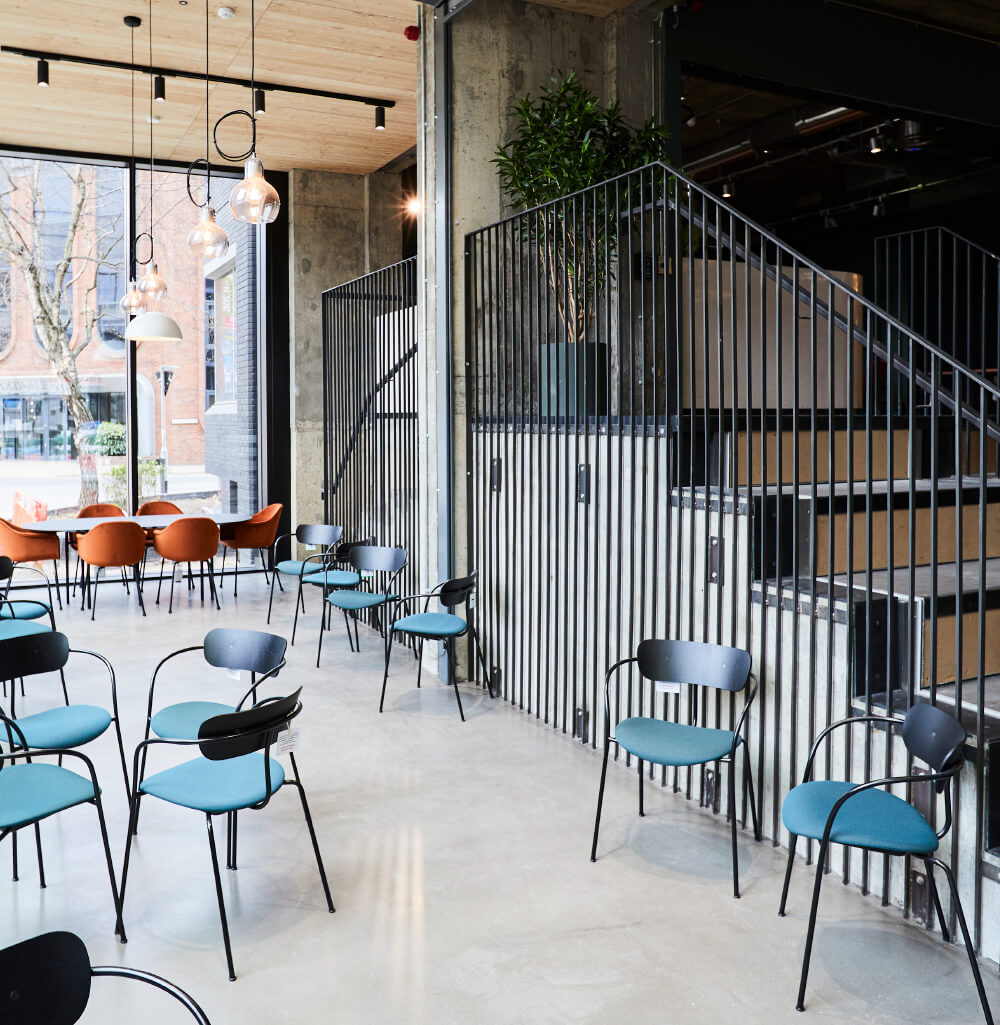 FOR THE LATTES, ESPRESSOS AND FLAT WHITES.
An independent café serving freshly roasted coffee – right here. The perfect way to start the day (or finish it).
DOWNLOAD CAFÉ PLAN
New café
Terrazzo serving counter
Air conditioning
Polished concrete flooring
Bespoke lighting
Floor to ceiling glazing
Floor to ceiling glazing
Disabled access
stepped seating area
order and pay via app.
THE FACTS.
Significant communal,

co-working,

social spaces

in atrium.

FORGE IS OFFICIALLY

CYCLING FRIENDLY.

9 showers throughout

the building.

MULTI-USE STUDIO SPACE AVAILABLE FOR TENANTS.

TRAINS PER HOUR TO LONDON WATERLOO STATION.

WIREDSCORE CERTIFIED PLATINUM.

CYCLE STORE - Cycle ramp froM reception down to basement.

changing facilities including drying room AND LOCKERS.

105 secure basement car parking spaces. –
ratio (1:685 sq ft).

electric CAR charging points (WITH POTENTIAL

TO EXTEND).

11+ MILES OF CANALSIDE TOWPATHS.

MILES OF CYCLE PATHS LOCALLY.

Ultrafast broadband already connected.

ONSITE CAFé ON THE

GROUND FLOOR.

OCCUPANCY DENSITY

1:8 SQ M.

"Intelligent Building" facilities enabled.

MinuTES BY RAIL TO LONDON WATERLOO.

NEW ENERGY EFFICIENT AIR CONDITIONING.